Dr. Trizzino is passionate about providing the highest quality dentistry in a friendly, caring environment.  This commitment to excellence and attention to detail result in a superior restoration that will last.  This longevity results in a sound return on your investment.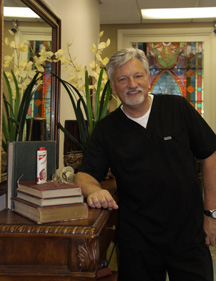 Betty and Walter Barton's restorations (see pictures on their testimonial page) were completed over thirty-four years ago.  They still look great.  The national life expectancy of crowns is less than ten years, and most insurance companies allow replacement every five to seven years.

Dr. Trizzino's commitment to his patients doesn't stop at providing long lasting, high quality restorations.  He believes that the key to having healthy teeth that last a lifetime is educating his patients about the importance of preventive care.  Good systemic (total body) health provides the best chance to maintain great oral health.  As an example of this philosophy, Dr. Trizzino has been using mercury-free restorations for over 25 years. 

Dr. Trizzino has completed thousands of hours of continuing education, and is skilled in the most advanced concepts and technologies available.  He is revered for his expertise in cosmetic dentistry, and has taught cosmetic veneer courses for a major dental company.  His commitment to excellence was evident even in dental school.  At Emory School of Dentistry, he graduated fourth in a class of one hundred students.  Based on his commitment to excellence during his time at Emory, he was accepted into the Dental Honor Fraternity, OKU.

The Trizzino family has resided in Dunwoody for over twenty-five years.  They attend the Northpoint Community Church pastured by Andy Stanley.  Dr. Trizzino considers his practice to be faith-based, knows that God is his true boss, and has written several testimonials about his faith.

Dr. Trizzino and his wife, Melissa – whom he still refers to as his bride – recently celebrated their twenty-fifth wedding anniversary.  They have four children, two Shelties, and two cats.  He enjoys racquetball, tennis and golf.